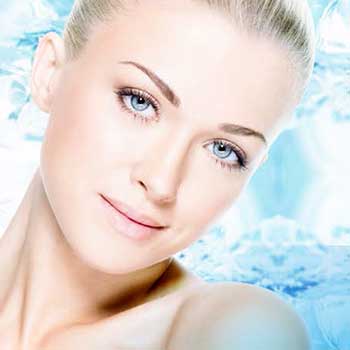 Ice-Cool Crystal Clear Face Treatment
90 minutes
Most people worry about how their skin looks because they know their skin is constantly exposed to a variety of factors that can damage it. Your hectic lifestyle, poor diet, inadequate sleep, hormonal imbalance, and pollution wreak havoc on your skin. When dirt, dead skin cells, and other toxins clog pores, oil gets trapped beneath the skin, resulting in bacterial infections that cause acne breakouts on the face and body. In particular, the skin of the face and neck are exposed daily to different factors that can accelerate the aging process. It can be aesthetically unpleasant if left unattended and may cause changes in appearance that cause pigmentation, freckles, sensitive or aged lines.
Are you suffering from large pores, acne, sensitive or pigmentation? Want your skin to be delicate, hydrated, glowing and healthy? Worry no more! SPACLUB Ice-Cool Crystal Clear Face Treatment combats all your skin imperfections with its unique Ice-Cool technology
This unique Ice-Cool technology is a natural way to help to relieve skin concerns. The benefits go beyond the skin, penetrating deep into the muscular structure and blood vessels. Its cold sensation causes blood vessels to contract and then dilate, which improves the oxygen and nutrient supply to the skin's surface, making it appear more radiant. It also helps to activate lymphatic drainage, all of which relieve the look of fatigue, puffiness, redness and irritation. Because of its cold contraction, SPACLUB Ice-Cool Crystal Clear Face Treatment helps to soothe inflamed, itchy and sensitive skin by constricting the tissue and reducing blood flow to the area. At the same time, it diminishes the size of skin pores by constricting the blood vessels underneath the skin and removes impurities in the skin that cause it to lose its smooth texture, seals in moisture, and has a lifting effect on skin. Smaller, tighter pores also means that bacteria are less likely to get in and cause infections that lead to acne. SPACLUB Ice-Cool Crystal Clear Face Treatment is also able to make you look younger as it puts the nerves into temporary hibernation, so muscles relax and wrinkles disappear, leaving your skin firmer and more defined look.
SPACLUB Ice-Cool Crystal Clear Face Treatment has amazing benefits, in just 1 treatment, your skin is visibly transformed, spots are less visible, radiance is beautifully elevated, appearance of acne and wrinkles are reduced, skin texture becomes more refined, firmness is improved, and protects skin against external aggressions. Skin becomes breathtakingly crystal clear.
Effects:
Boosts circulation and gives skin a healthier appearance
Constricts the blood vessels, improving circulation to prevent the formation of under-eye bags
Reduces dark circles and puffiness, diminishes eyebags
Helps to shrink the pores and reduce the appearance of pores
Minimizes the appearance of pores under makeup, helping the skin look more even and flawless
Activates lymphatic drainage and reduce the look of fatigue
Soothes irritation and reduces puffiness and redness caused by acne
Helps to eliminate the effects of free radicals
Reduces the appearance of fine lines, prevents age spots, and reduces the size of acne scars
Tightens the skin, promotes elasticity while smoothing wrinkles and crows' feet
Helps to shrink capillary blood vessels on the face, which might be due to genetics, aging or over-exposure to the sun
Relieves irritated, itchy and sensitive skin
Reduces inflammation and sensitivity by boosting skin's immunity
BOOK APPOINTMENT